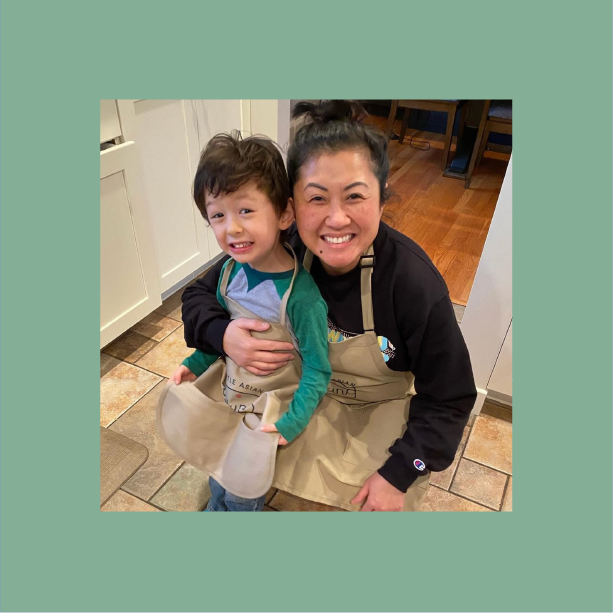 We asked author of A Very Asian Guide to Korean Food, Michelle Li, to share why a children's book about Korean food is so important to her. Read her story.
I have always loved cooking. At one point in my life, I was a pretty decent home cook. Now with a busy job, a foundation, and a 3-year-old, I just say I do my best. But, I grew up cooking with my mom, Sharon, in rural Missouri. As a Korean adoptee, I grew up cooking a lot of Midwestern comfort foods with my mom – pork steak, spaghetti, and fried chicken were our favorites. And lots of gravy. But, as I got older, I started going to Korean heritage camps and began exploring Korean food with my parents. It led to many trips to Korea and even a reunion with my birth family. We loved finding ways to make Korean food with our Missouri-bred palettes. 
In my late teens and to my surprise, I discovered that I cook a lot like my birth mother, Hang Soon. She is a passionate home cook, and even in her 70s makes most of her food from scratch. She won't touch my Korean American containers of gochugaru (Korean chili pepper flakes) because she grows her peppers and dries them to create her own spices. She and my Korean dad have kimchi pots in their backyard in Miryang, a small city outside of Korea's southern port city, Busan. Instead of a flower bed, my Korean parents have vegetables growing all around their tiny home. Their yard is a working landscape and sustains them throughout the year. 
I later found out that my birth mother even ran her own noodle stand to help make ends meet in the early 80s. All of my biological sisters love to cook, and my second oldest sister Hyun Jung even thought it was bizarre that I run my kitchen a lot like our youngest sister Yeon Jung–with many pots and pans going at once on the stove, multitasking, and creating a tornado path of a mess as we go. I don't know if the similarity is genetic, but my sister Hyun Jung seemed to make it so. I have learned a lot about who I am through their actions. I'm always surprised at how something I thought was uniquely my own was actually a carbon copy move or habit from my biological family.
When we cook--whether it's Midwestern food, fusion, or straight up Korean, we measure by taste and feeling. As long as my family likes it, I like it! Making Korean food, but enjoying it through my lens as an Asian American, speaks to my heart as an act of intentional self-love and care. I love cooking because it brings me joy and I always try to please my loved ones through my creations as an act of love. 
Understanding Korean food and some of its origin stories gives me confidence. As an adoptee, it can be very intimidating to learn Korean foods on your own. You can feel ashamed for not knowing more, even though it's absolutely not your fault. When Asian Americans talk about the trauma of growing up with "stinky lunches" at school, I secretly longed for a similar experience as if it legitimized my Asian-ness. Truth be told, I was eating stinky lunches, but they came in the form of bologna sandwiches and boiled eggs— still delicious in their own right. 
What I've learned through the years in my travels, my connection to family, or my fellow Asian American friends, is that you still have to learn about food from somewhere. Many Asian Americans only have American culture as a frame of reference. Many of us needed someone to teach us something, and having parents wasn't a guarantee we'd learn anything at all. We all have to be intentional about what culture we bring into our lives – no shame, no guilt. For me, it's curiosity and celebration from here on out.