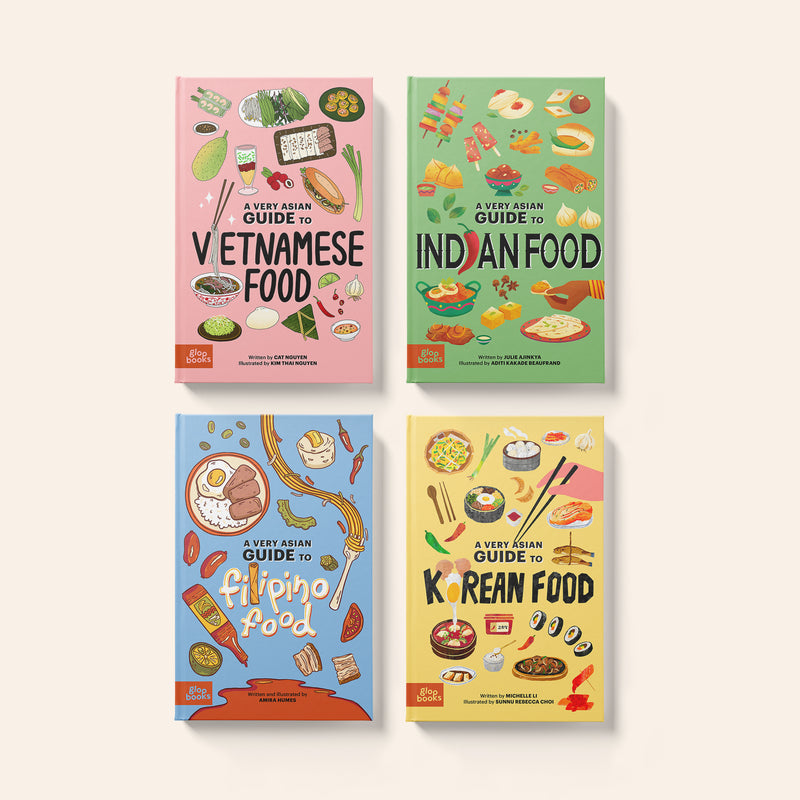 This May, Gloo Books will release three new books in the Very Asian Guide series to further introduce young readers to their own and differing cultures through cuisine. Following the 2022 release of the the first book in the series, A Very Asian Guide to Korean Food, the additions will focus on Filipino, Indian and Vietnamese food. Read more about our three new titles and pre-order the books or the entire series!
A Very Asian Guide to Filipino Food, written and illustrated by Amira Humes 
Learn how adobo got its tangy flavor or about the vibrant purple Filipino vegetable that is used in desserts around the world. Author and illustrator, Amira Humes, immerses you in the joyous world of Filipino culture and, with each colorful page, brings the traditions and flavors of this beloved cuisine to life. 
Amira Humes is a Filipino-Black illustrator, pattern artist, and food enthusiast based in Milwaukee. She has no fear in embracing her inner child and loves bright, bold colors and appreciating the things in life that feel magical. In her art, she enjoys illustrating food and embraces the unique beauty of the endless cultures the world holds.
A Very Asian Guide to Indian Food, written by Julie Ajinkya and illustrated by Aditi Kakade Beaufrand
Learn how to eat with your hands or about all the different combinations of chaat. Author, Julie Ajinkya, takes you on a journey through the diverse and vibrant world of Indian cuisine, where there is something unique for everyone. 
Julie Ajinkya is a mom, equity advocate and professor of public policy who works to make sure that college is a true possibility for any student who wants to pursue a higher education. She was born and raised in New Jersey, but grew up traveling between the U.S. and India, where much of her large, extended family lives. She enjoys cooking and creating and lives in Washington DC with her partner and two boys.
Aditi Kakade Beaufrand is an Indian illustrator based in France. She likes experimenting with bright and happy colours. She grew up reading fairytales, watching animated films imagining adventure stories. Likewise her style is an embodiment of her Indian heritage and western culture. She loves animals and taking long walks on the beach but is never too far from a pencil and paper to draw her perception of the world.
A Very Asian Guide to Vietnamese Food, written by Cat Nguyen and illustrated by Kim Thai Nguyen
Learn why fish sauce is so important to Vietnamese cuisine or what makes bánh khọt so crunchy and irresistible. Author, Cat Nguyen, invites you to discover the fresh and bright flavors of Vietnam, where food is not just something you eat but something you share.  
Cat Nguyen is a native of Houston, Texas and the daughter of two Vietnamese refugees. When she became an aunt and later a mom, Cat searched high and low for books in English about Vietnamese food and traditions without much success. She decided to write a book for Vietnamese-American families like her own. Cat works as a lawyer focusing on education and civil rights. She is a co-founder of VietLead, a non-profit that aims to connect and protect communities of color. She lives in Philadelphia with her husband, daughter, son, and their two cats.
Kim Thai Nguyen is a Vietnamese-American artist, currently based in Grand Rapids, Michigan. Kim is most passionate about communicating and connecting with others through illustration and design. She especially loves drawing characters and food while using delicate lines and bright colors. She hopes her artwork inA Very Asian Guide to Vietnamese Food helps readers of all ages learn more about her culture and gather inspiration for their next meal.