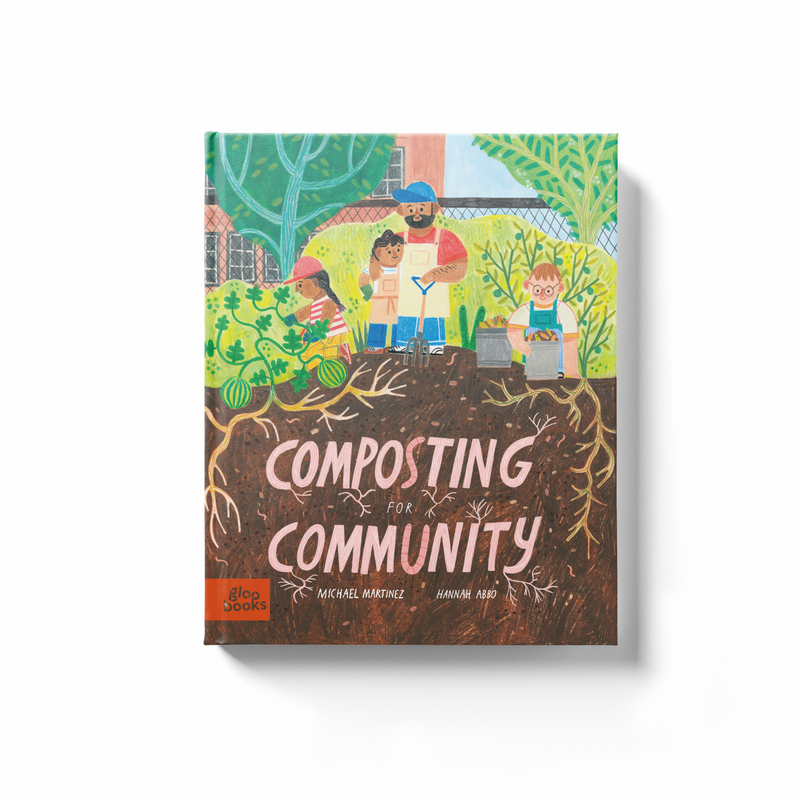 "Composting for Community is a wonderful educational children's book. It puts a human story to the mystery and magic of compost which until we have seen with our own eyes is sometimes hard to comprehend. With the guidance of this book, children can truly learn what composting is." — Bonnie Wright, actress and author of Go Gently: Actionable Steps to Nurture Yourself and the Planet
This November, Gloo Books will publish Composting for Community, a picture book detailing the transformative power of composting on our planet. Weaving together educational lessons on the science behind composting and the climate emergency with an uplifting narrative, Composting for Community depicts the importance of reducing waste and will inspire readers to take collective action in their own communities.
During career day, Mateo shares his father's role as a composter to a mix of confusion and embarrassment, but as he explores the world of composting, his dad's seemingly ordinary job unveils a world of interconnectedness, family heritage, and environmental stewardship that changes Mateo's perspective. Written by Michael Martinez, a former elementary school teacher and the founder of LA Compost, a nonprofit providing compost access and education, the picture book draws from the author's own life. Inspired by the way his family could repair and restore everyday items, Martinez started LA Compost in 2013 with the collective efforts of friends, family, and volunteers. 
"We know Gloo's readers will love Composting for Community just as much as they've loved Mostly Me, What's That?, and our Very Asian Guide series," says Gloo Books' founder Karen Chan. "Not only is it written with the same compassion and informative lens that our other stories are known for, but it's also hands-on; It shows young ones exactly how they can go about making change in the world." 
The new book also kicks off an exciting partnership with LA Compost. With both organizations based out of LA, the teams plan to host composting workshops at local schools in LA Composts' Magic Soil Bus, a retrofitted, electric bus that will be finished later this year. Readings of the book will accompany each visit. 
"Composting for Community is a short story that walks along the path of curiosity, which leads to a beautiful creative process," says Martinez. "It reminds us that soil and people are deeply connected and that the compost pile provides us with a glimpse into a potential future. A future where individuals are collectively working towards something bigger than their individual selves."
Chan continues: "Not only will Composting make for a perfect holiday gift, but also hopefully help readers of all ages bring composting into their homes during a season that enlarges food waste and help connect families over a new activity." 
Out November 10th, Composting for Community is available directly from GlooBooks.com.