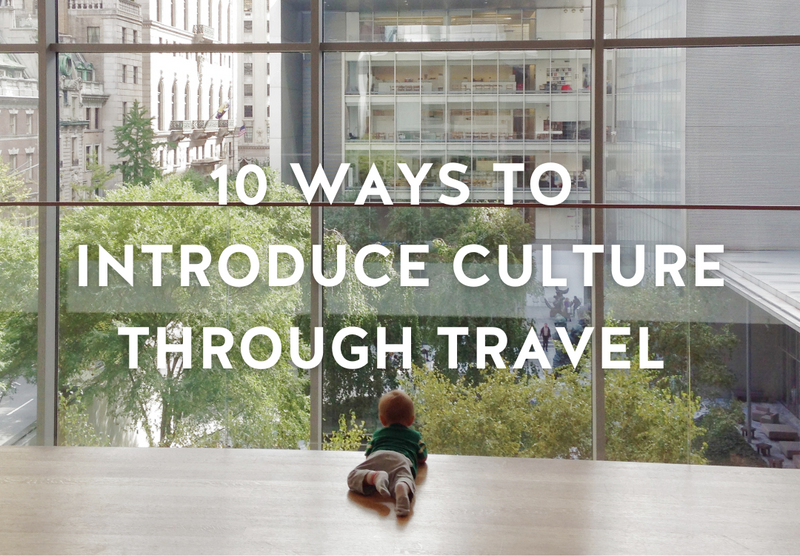 Whether at home or abroad, it's never too early to enrich your little one's learning through travel.
I can easily say my most profound educational experiences in life have come through travel. My parents are from opposite ends of the globe and I grew up traveling between East and West and developed a deep love and appreciation for both cultures. When I became a mother, I began traveling with my babies when each was about three months old. I could not wait to introduce my little ones to the world's diverse people, cultures and places!
- Vanessa Lee Christensen, author of Baby Go!
1. FOOD
Of course food is an important part of every culture. Kids can explore flavors, ingredients, methods of cooking, and ways of eating. I love to learn and make new dishes with my kids that we can enjoy time and time again and share with family and friends at home. There is hardly a better place to culturally immerse yourself in such an authentic way than a local grocery store or market. See fruits and vegetables you may have never seen before or try snacks that look delicious. Speak to the local shopkeepers. Experience new smells. A simple visit to the grocery store can be a rich cultural experience for all five senses.
2. PLAY
Play is one of the most important ways in which young children all over the world develop cognitively, physically, socially, and emotionally. Games can be found in every country and many games reflect the culture in which they are played. It has the ability to bring people together, foster communication and teach about a culture's people, values, language, and environment. In Japan I learned the game Janken (じゃん拳), an equivalent of Rock Paper Scissors, and how it can be used to help kids and adults alike make tough decisions or settle disagreements. I still use it as a secret weapon to end arguments at home. Try it, it works!
3. ARTS AND CRAFTS
Discover traditional arts and crafts and the meanings behind them. Colors, patterns, and imagery are significant for many cultures. Have fun creating and learning together with your little ones. I love how art allows us to share ideas and has the ability to transcend language barriers. 
4. CELEBRATIONS
Seek out opportunities to attend festivals or special events. Public events are often held in local communities and allow you a unique opportunity to partake in the local culture. My children still talk about riding on police motorcycles outside Buckingham Palace during Queen Elizabeth's Platinum Jubilee. Once in a lifetime memories were made! Local calendars of events are often available on official tourism office or city websites. Social media, community groups, and local news outlets are also excellent resources. It's a good idea to check for national holidays to be prepared for limited business hours or to avoid busy holiday traffic.
5. BOOKS
As an author, children's books have a special place in my heart. My kids always insist on visiting local bookshops when traveling. We often plan a whole day around it, especially if it's rainy. They love to browse the children's section and I love reading to my youngest while he cuddles on my lap. My kids never tire of exploring the world of books. 
6. LANGUAGES
Children are never too young to start learning a new language. In our family, we like to practice a few basic phrases with our children before traveling abroad. Seeing our young children use "bonjour" and "merci" while traveling in France went a long way in teaching our kids the importance of being respectful and polite. And it's fun for the kids to see their parents try something new too - especially when we make mistakes!
7. MUSIC
Music is a universal language. Sing, clap, dance along and play musical instruments with your child. What is the song about? How does it make you feel? Is there history behind it? Music has shaped cultures around the globe for generations. Discover folk instruments or learn to sing a traditional lullaby with your little one.
8. PLAYGROUNDS
A must-do activity when I travel with my kids is visiting local playgrounds or walking through neighborhoods. All around the world playgrounds offer an incredible range of designs that spark imagination, promote problem solving, and build confidence. Children play alongside new friends and experience everyday life like a local.
9. PLACES
Museums, libraries, historical sights, and places of worship can be a window into a culture's history. Many museums and libraries have interactive displays for children. Oftentimes many of these places offer in-person or virtual tours. I find it meaningful to introduce my kids to different places of worship to learn about the wonderful variety of ways people believe, pray, and feel peace.
10. VOLUNTEER
There are opportunities to volunteer all over the world. Many volunteers can serve together with their families. A few of my personal favorite volunteer opportunities include participating in community clean ups, sorting local food donations, and hand-packing meals ready to ship worldwide. Choosing to serve in your community or while traveling can provide meaningful experiences, foster friendships, and spark a life-long interest in giving